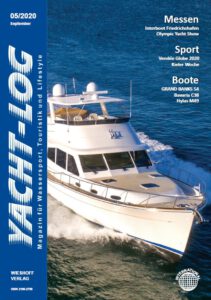 Yacht-Log reports from the world of water sports, and combines this with corresponding articles from the fields of tourism and lifestyle. The chief editor of the magazine itself is an experienced skipper, longtime travel journalist and author of several guide books on worldwide destinations.
Well-written stories, beautiful photographs and an exciting layout take the reader into the stunning world of water sports in all its aspects.
Includes:
The latest news from the world of water sports
Travelogues and tourist recommendations
Novelties of maritime lifestyle
It is optimized for tablets and mobile devices
Free!
The magazine is published bilingual in German and English.
Are you manufacturer, exhibitor at a boat show or somehow involved in Maritime, Travel or Lifestyle business, and would like to publish your press releases FOR FREE in our magazine? Click here
Are you interested in advertising? Please find our media facts here.